Features
Everything you need for maintenance management
Maintenance is SaaS (Software as a Service) maintenance software with many advanced features.
Accessible on all major operating systems and mobile platforms.
Its clean and fast. Delivering exactly what you need. Nothing more, nothing less.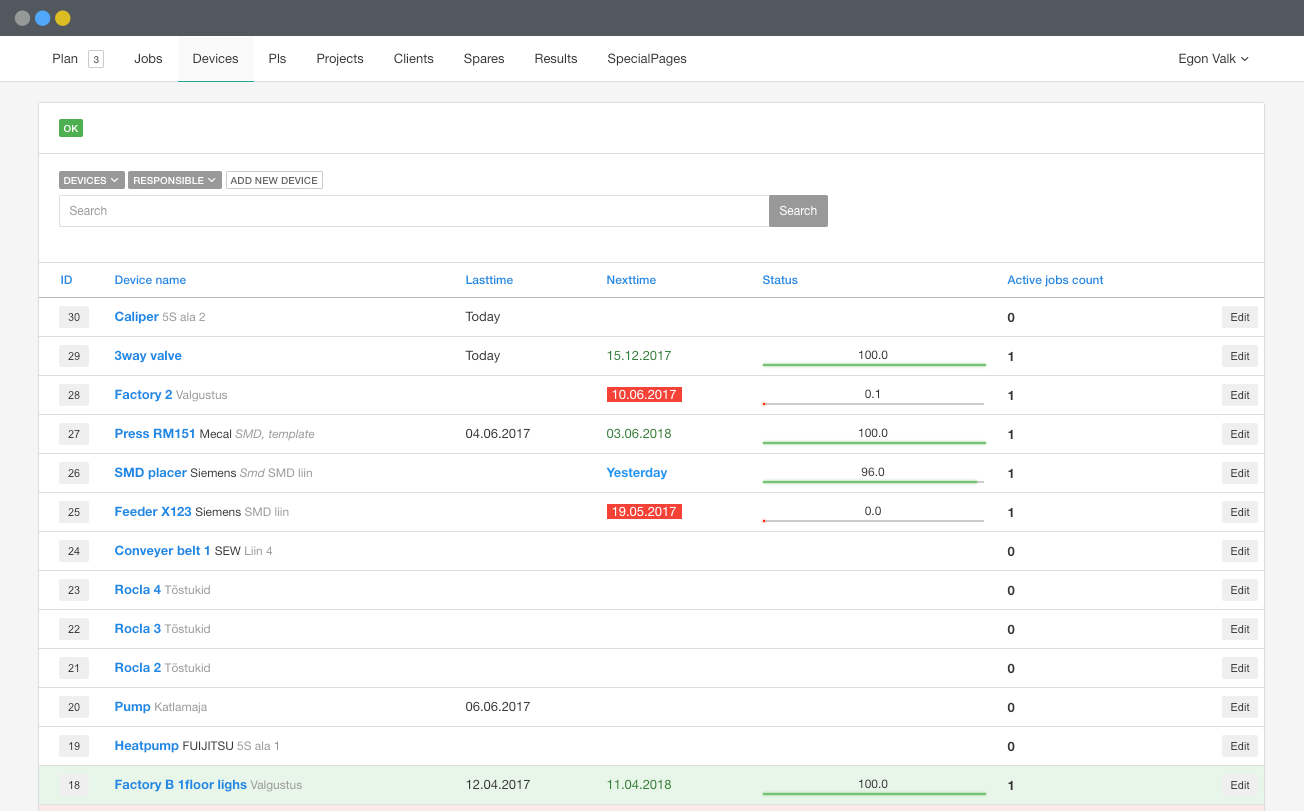 Automated Maintenance Planning
Get daily and weekly workplans for users and equipment. Use timeplanning to optimize workload.
Devices and equipment
Set up your list of devices for tracking jobs, files and equipment related tasks. Assign different users to equipment to share responsibility.
Recurring and one time jobs
Jobs with predefined interval for reccurring maintenance tasks. One-time jobs fixes, breakdowns etc.
Barcode support
New
Barcode support for workorders on paper. Also available to use with equipment and spares barcodes. Smartphone camera support.
Electronic Work Log
Performing maintenace jobs on devices and clients leaves behind electronic logbook for every device - with date and signature.
Big Data
Easely support thousands of jobs and devices. Made for performance and scalability.
Spares and stock
Keep your spares and stock inside the software. With minimum, maximum stock and barcode support.
Production Lines
Production lines are groups of devices. They can be real production lines or just Ventilation, Doors etc.
Email / SMS notifications
Get Email notifications for jobs and equipment that are overdue. Set up SMS notifications for mission-critical equipment.
Files
Upload files to devices, jobs, spares and results. Documents and images. That way they are easy to find when needed. Smartphone camera support.
Calendar
Desktop or mobile - you can subscribe to calendar URL provided by the software.
Clients
If you maintain Your clients equipment, then you will have Clients module. Clients contain client devices, their jobs and work log.
IOT over HTTP API support
Now you can send data over HTTP API to your devices. Each device has its own URL endpoint.
Desktop / Mobile
App is well supported on mobile using device display size responsive rendering (Responsive CSS).
Fast
Application is running on SSD cloud drives and uses smart browser and server side caching to deliver fast response for each request.
Secure
Encrypted backups and passwords. SSL connectivity. Full data backups are created every 24 hours and stored in separate physical locations.
and many more features.
Screenshots
Mobile view